What to do in case of water damage !
Most water damage is not weather related; instead caused by toilet overflows, water supply lines, faulty plumbing and other indoor accidents.
Safety first: If water is coming from wall or ceiling electrical fixtures DO NOT turn off the electricity in the room; either shut the main panel off or call an electrician immediately. Water leaking through a ceiling may cause the ceiling to collapse under the weight of the collecting water. It is wise to poke holes through the ceiling to allow water to run through and collect into buckets. Be aware that flooring will be slippery and only adults should be allowed into the flooded areas.
Eliminate the source of water by shutting off the main water supply in the basement (usually located next to the water meter).
Remove all personal belongings and furniture to a safe dry area to prevent damages to both carpeting and your furnishings.
Time is of the essence where water damage is concerned…the sooner professional drying takes place the less likely you are to have structural damage, mold or bacterial growth or unnecessary replacement of items that can be salvaged with rapid mitigation.
Know your rights as an insured homeowner (see below). You are authorized to take all necessary steps to minimize the damages including hiring us to mitigate the damage. Taking no action may result with your insurance company disallowing or reducing your claim amounts.
Call a plumber immediately to repair pipes or toilet problems,

Then call us at 780-951-0534 to begin cleaning up the damages and begin drying your home or business.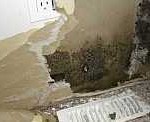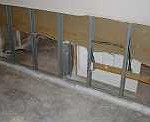 Musty odors in the house are your first sign of water or mold problems.
Failure to properly clean up flood damage usually results in moldy walls and additional costs.
Water Damage PREVENTION Tips:
To prevent sewage backflows talk with a plumber regarding the installation of backflow restrictors and other such devices.
Store items above the floor to prevent damage; using either wood blocks or shelving. Be sure down spouts from rain gutters are directing water away from the house.
Add window well covers to the outside of your home. Adjust the grade of your property where it meets the foundation.
Check the working operation of sump pumps and/or sump alarms.
Have a stand-by sump pump.
Turn off outdoor water spigots and ensure the line is drained prior to winter.
Turn off water supply lines to washers, toilets and sinks when you take vacations.
Arrange for frequent visits by friends while you are on vacation.
Notify your insurance company if you plan to be away for more than 3-days. Proper coverage is needed while on vacation.
Do not allow children or pets into the flooded area.
Do not over exert yourself, get help.
Do not enter a basement that has standing water as electrocution may result.
Do not enter an area that has raw sewage or fecal matter without proper respiratory protection.
KNOW YOUR RIGHTS AS THE INSURED:
Read your policy inside and out, know what's covered and what's not.
Adding special water damage clauses may save you tens of thousands of dollars when disaster strikes.
If in doubt regarding the policy, call your agent prior to a claim.
THE INSURANCE COMPANY WORKS FOR YOU! Do not allow yourself to be intimidated by a claims adjuster or and insurance rep. You have many rights as the insured.
It is your right to hire any company or contractor that you choose; and the insurance company cannot decline your claim as a result of your hiring decisions.
Only the insurance adjuster is allowed to assess claims and not a person from the restoration company that they use.
If an adjuster arrives at your home with another person; ask who that person is. If that person is from a restoration company kindly ask them to remain outside until the adjuster has viewed the damages.
NOT doing so may result in your claim being adversely affected by the restoration company personnel aiding the (possibly) untrained adjuster as to the cause or effects of the damage.
You may insist upon another adjuster viewing the damage or you may request a public adjuster for your claim.
Take plenty of pictures while the damage is fresh.
Ask lots of questions of the adjuster.
Always remember that THE INSURANCE COMPANY WORKS FOR YOU!
Failure to properly clean up flood damage usually results in moldy walls and additional costs.
Did you know that Dan is a Certified Master Water Damage Technician and is also certified for Mold removal?
We have all of the latest drying equipment and technical knowledge to ensure prompt and safe mitigation of your flood.
Musty odors in the house are your first sign of water or mold problems. Call us we'll check it out for you.
Spores emitted by mold growth can cause serious harm to your family.
Water damage left unchecked WILL cause mold growth within a structure and such growth can lead to asthma, respiratory illness and other serious medical problems. You've heard all of the horror stories associated with mold…they are true! Don't be a victim!